In stock
Silicone Baking Mat(硅胶擀面垫)
RM 30.80 – RM 63.80
Description

Additional information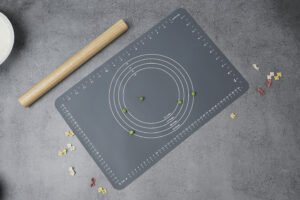 James.F Brand
*NO CHEMICAL ODORS: Silicone of Highest Food Grade FDA Certified.
*NON STICK SURFACE: Our mats are great for working with sticky materials. it is much easy to roll out the dough, pie, pizza, homemade biscuits and cookie dough.
*NON SLID: Lays perfectly flat on countertop or any other surface and won't curl around the edges. It always keep stable on the table. No need to worry the mat will move when rolling. The thickness is fine as it rolls up without any wrinkles. But also no need to worry using dough cutter will damage the surface. Also it protects your countertop.
* 无化学气味:FDA 认证的最高食品级硅胶。
* 不粘表面:我们的垫子非常适合处理粘性材料。面团、派、比萨、自制饼干和曲奇面团很容易擀开。
* 非滑动:完全平放在台面或任何其他表面上,不会在边缘卷曲。它总是在桌子上保持稳定。滚动时无需担心垫子会移动。厚度很好,因为它卷起来没有任何皱纹。但也不必担心使用切面机会损坏表面。保护您的台面。
🧵Material:
✅FDA Silicone
📦Package Includes:
📌1pcs of Silicone Mat, in choice of size & colour.
🎨Color: Pink, Blue, Grey, Green
📏Size: Small, Big, X-Large
⚠Precautions:
Before use,
❗ Take out the outer packaging of the product, scald or soak the product in boiling water (The product is made of silicone gen, which can be soaked in high temperature), and after cleaning, the product can be used after drying.
🛄Face Pad Maintenance:
🔴Do not come into direct contact with open flames.
🔴Can be sterilized in hot water.
🔴Wash after use and hang somewhere to let it dry out.
🔴If you plan to stop using it for a while, please store it somewhere less dusty and moisture.
🔴Do not use sharp utensils directly on the pad to avoid damage to the silicone pad.
If you encounter any questions/problems, please contact customer service.
| | |
| --- | --- |
| Weight | kg |
| Dimensions | N/A |
| size | Small, Big, X-Large |
| Colour | Gray, Green, Pink, Blue |